Main Info
Salkantay Mountain is the highest peak in the Andes, and is located northwest of Cusco, on the eastern edge of the Vilcabamba mountain range. Salkantay's name means "Wild Mountain", which refers to the clouds that swirl and rise from the lowlands of the jungle. On our trip, we will see beautiful Andean landscapes, even at the highest point of our route (5,000 meters above sea level). Additionally, we will have the opportunity of watching condors, llamas, and alpacas in their natural habitat. The Salkantay circuit is a new trekking alternative for adventure lovers.
This route leads to Machu Picchu, surrounded by lagoons and snow-capped mountains, such as Humantay and Salkantay. It is one of the trails of the Quechua people, and along it we can appreciate a progression of different climate zones. Initially, we will cross rivers and natural hotsprings in the mountain range. Then, we will enter the cloud forest region, with its tropical vegetation, its orchids, hummingbirds, and the vibrant rainforest parrots. The Vilcabamba mountain range, dominated by Apu Salkantay, is composed by many snow-covered mountains, such as Tucarhuay (5,910 meters above sea level), Verónica (5,682 meters), and Huacayhuilca (5,361) meters, among others. The Salkantay is surrounded by deep valleys and canyons, which will make our journey an unforgettable one.
On the last day of trekking, we will rise very early to visit the Lost City of the Incas –Machu Picchu. We will return to Cusco in the afternoon of the Same day.
Type
Culture, Nature, Adventure.
Departures
Every day.
Duration
5 days / 4 nights.
Difficulty
Medium.
Type of Travel
Premium and Standard.
Season
April to December.
Included

English-speaking tourist guide.
Assistant tourist guide for groups of over 9 people.
Chef.
Mules to carry cooking and camping equipment, as well as up to 7 kilograms of personal luggage.
Pick-up at your hotel.
Transportation by bus to Soraypampa.
Return transportation by bus and train to Cusco.
Water(excluding the first 4 hours of the trek, for which you will have to bring your own).
4 breakfasts, 4 lunches, 4 snacks y 4 dinners. If you have any dietary restrictions or preference, such as vegetarian food, please let us known in advance.
Dining tent, equipped with tables and chairs.
Tent for 3 people for every 2 hikers.
Hotel room for overnight stay during the final night.
Sleeping mat.
Oxygen tank.
First aid kit.
Entry to Machu Picchu.
Round trip bus tickets from Aguas Calientes to Machu Picchu and vice versa.
Not included

Sleeping bag (available for rent at our office).
Breakfast for the first day and dinner for the last day.
Entry to the Huayna Picchu mountain.
Advices.
Travel insurance: we strongly recommend you buy a travel insurance that covers the duration of your trip.

Packing list for your backpack

Original passport.
ISIC card (in case you are a student and want to get a discount).
Trekking boots.
Waterproof jacket / raincoat.
Warm jacket or jumper.
Hat and gloves.
Shirts.
Comfortable trousers.
Sun hat.
Sunscreen (SPF 35 or higher).
Insect repellent.
Toiletries and hand sanitizer.
Personal medication.
Camera and video camera.
Flashlight with spare batteries.
Itinerary
DAY 01: CUSCO - SAYLLAPATA - SOYROCOCHA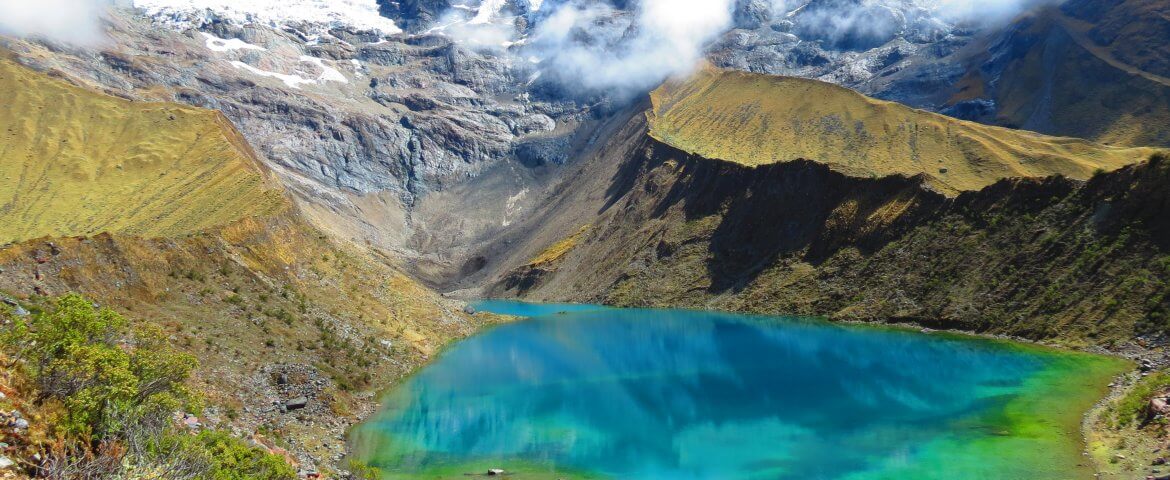 We will pick you up at 6:00 am at your selected hotel. From there, we will travel aboard our private transport to the cities of Izcuchaca, Limatambo, and Mollepata. The latter is located at 2,850 meters above sea level and is surrounded by temperate rainforest vegetation. On the outskirts of town, we will see mountains from the Salkantay mountain range, which stand at a height of approximately 4,000 - 5,000 meters. Throughout our trip we will have panoramic views of the Salkantay sacred mountain, as well as magnificent views of the Apurímac river.
Afterwards, we will reach Sayllapata (3,600 meters above sea level), which is the starting point of our trek. Here, we will have breakfast, and meet our carriers and cook. Then, we will begin our journey with a 2.5 hours gradual climb that will take us through the typical Andean communities of Cruzpata (3,200 meters above sea level) and Challacancha before we reach Soraypampa (3,750 meters above sea level). We will have lunch after visiting a spectacular glacier. Following lunch, we will make our way up a soft slope for about 4 hours, until we reach Soyrococha (4,200 meters above sea level), where we will set our first campsite.
Food: Breakfast / Lunch
DAY 02: SOYROCOCHA - HUAYRAQMACHAY - COLLPAPAMPA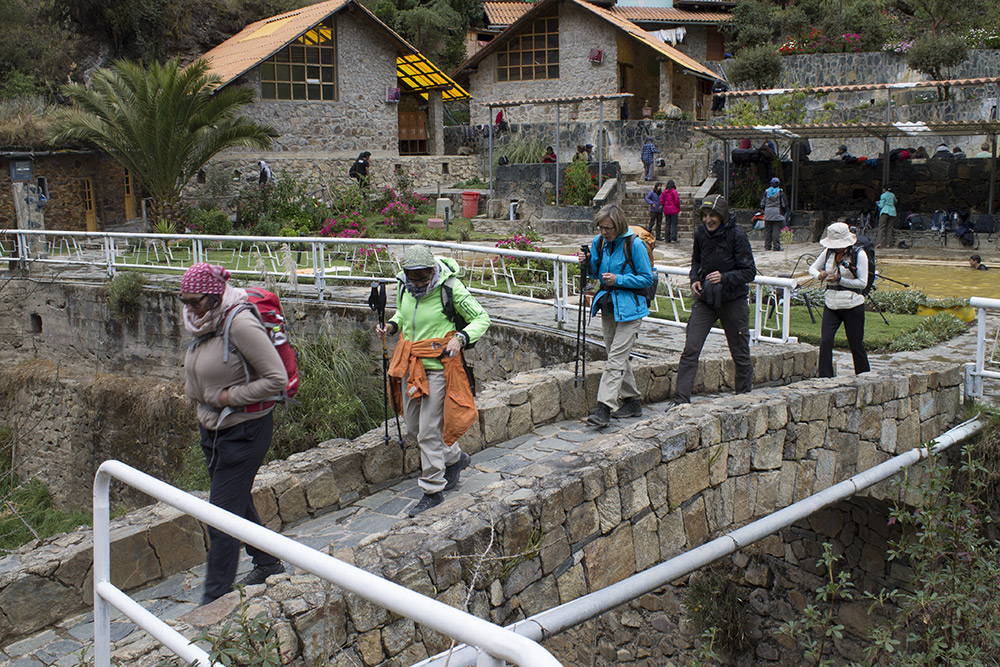 After an invigorating breakfast at 7:00 am, we will hike down an impressive pathway, with the Salkantay in front of us. Then we will climb up a trail surrounded by spectacular landscape, through which we will reach the highest point of our route. From here, we will get to see the Andes mountain range, and the snow-capped summit of the Salkantay (6,270 meters above sea level). From here, we will enter a canyon of sorts, which will lead us through valleys where we will see a great variety of birds, insects, and other animals. We will also witness the lifestyle of the local peoples while we soak in the views of the different mountains, such as Huayanay and Humantay, as well as small lakes.
We will have lunch at Huayraqmachay (3,700 m) before we start a 3.5 hours descent to Collpapampa (2,900 m), with beautiful rainforest landscapes as our backdrop. There, we will set our campsite. Our food and camping equipment will be carried by horses.
Food: Breakfast / Lunch / Dinner
DAY 03: COLLPAPAMPA - BEACH - LUCMABAMBA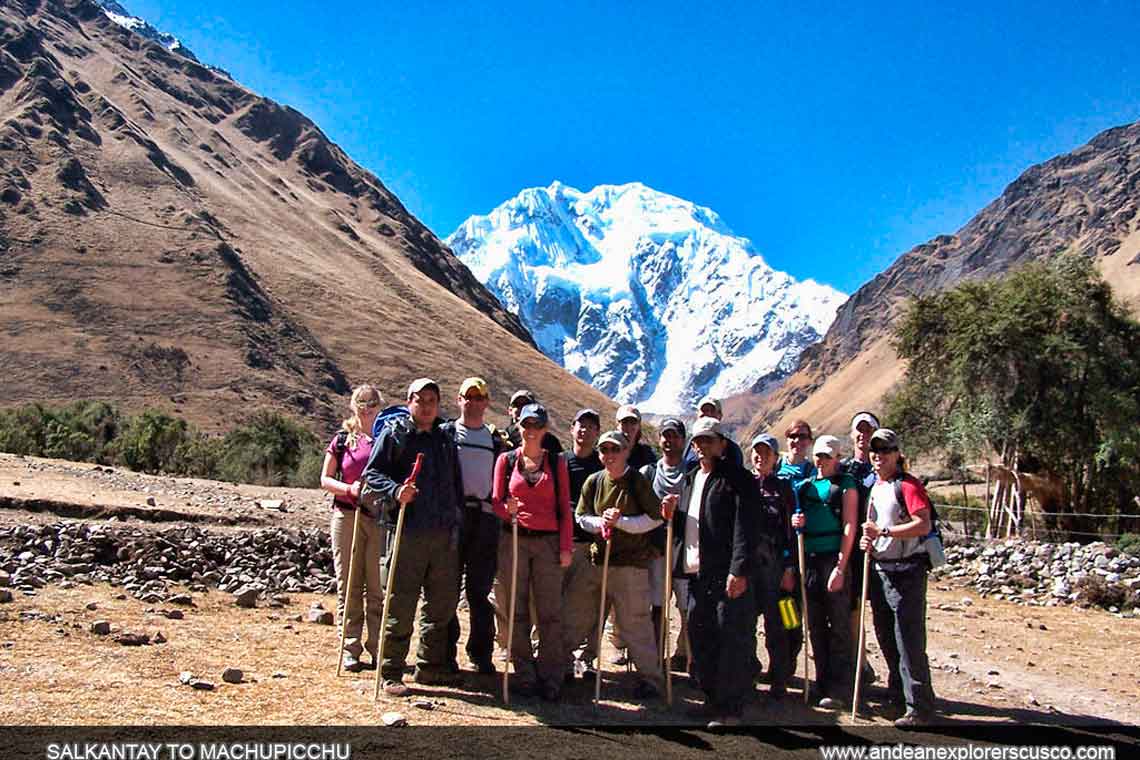 On our third day, we will resume our journey at 7:00 am, after having breakfast. The route for Day 03 is as impressive as it is easy, and we will see a great variety of fauna and flora along the way. Our surroundings will be covered by abundant vegetation, typical of high and low forests, as well as different types of ferns, begonias, orchids, herbs, Sobralia, etc. We will also see birds of all colors and sizes, insects, and butterflies. The geography is another major attraction of the region, with its colossal mountains and flat valleys which are crossed by many rivers that flow down the heights of the mountain range to feed the main rivers, such as the Santa Teresa, the Willcamayu and the Vilcanota. After a 5-6 hours trek, we will reach Lucmabamba (1,700 meters above sea level), where we will set camp.
Food: Breafast / Lunch / Dinner
DAY 04: LUCMABAMBA - LLACTAPATA - HYDROELECTRIC POWER STATION - AGUAS CALIENTES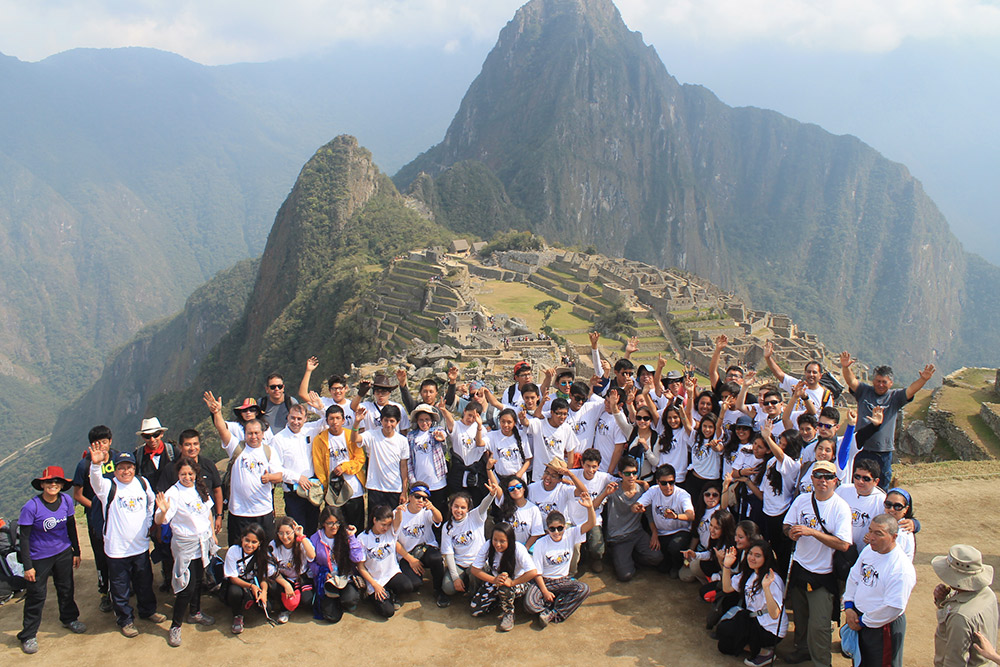 After enjoying a delicious breakfast, we will walk on a portion of the Inca Trail network, until we reach the archeological center of Llactapata. Then, we will descend to the train station of the Hydroelectric Power Station (Km 116), where we will have our last lunch. Afterwards, we continue walking for about 3 hours until we reach Aguas Calientes (2,000 m). Upon our arrival, we will check in at the hotel and have dinner at a restaurant previously reserved by us.
Food: Breakfast
DÍA 5: MACHU PICCHU – CUSCO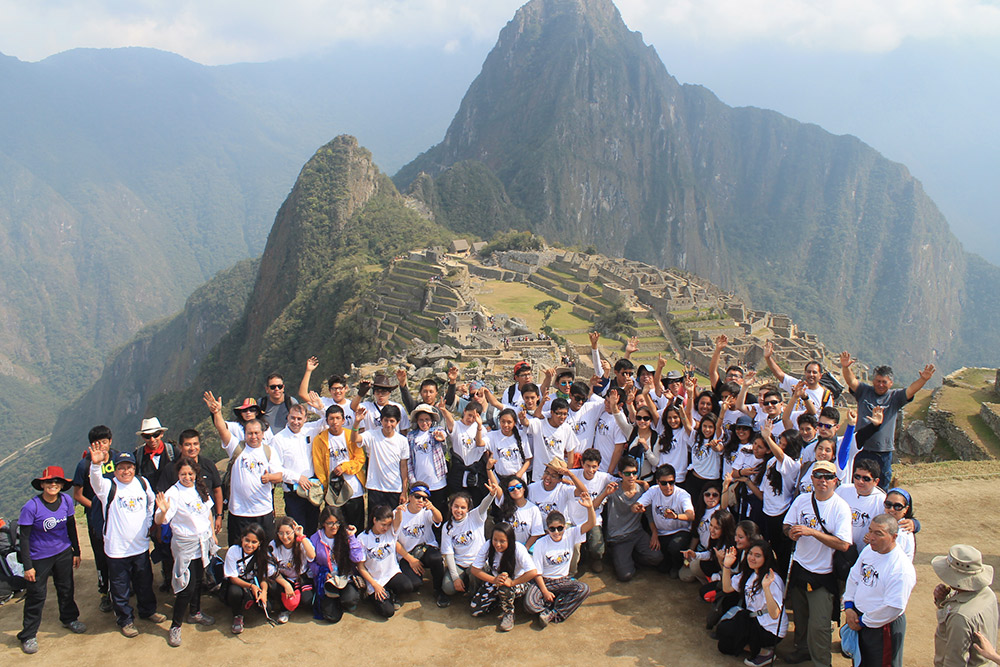 We will start our much-awaited last day with a bus ride to the citadel of Machu Picchu. Here, we will do a guided tour (approx. duration: 3 hours), after which we will have plenty of free time to explore the archeological complex of Machu Picchu, also known as Wonder of the World or "Llakta Inca Machu Picchu".
An optional additional attraction is the climb to the Huaynapicchu mountain, from where you can see the Temple of the Moon and the Sun Gate. This option must be booked at least two months in advance.
Afterwards, we will return to Aguas Calientes, where we will board our train back to Cusco. Upon our arrival, a representative of our company will take you back to your hotel.