Ollantaytambo is a small town in the Sacred Valley of Incas built near Cusco in Southern Peru. Streets and buildings made with cobblestone give a similar view as they were in Inca times. After the Spanish took Cusco, this is the place where Incas retreated.
This town was destroyed many times and reconstructed again in different times of Andean culture. Finally, the empire of Incas restore it and transform it; that is how it looks like. The spectacular view of green mountains with Inca ruins gives a splendid look
How to get to Ollantaytambo?
You can arrive at Ollantaytambo through different routes that mainly include traveling via Chinchero route, Pisac route, or travel agency. You can travel by taxi, bus or by trekking to Machu Picchu.
By the Pisac route
Take the bus in Cuco, through the town of Pisac cars passed by and reach Calca, this will take almost one and half hours. From Calca, it will take 30 minutes by car to reach Urubamba town. After this, it needs another half an hour by bus to reach from Urubamba to Ollantaytambo. This is how the bus from Cusco to Ollantaytambo goes.
By the Chinchero route
From Cusco to Ollantaytambo, you can board small buses and get there in almost one hour and 30 minutes. You can also reach Ollantaytambo through rail. Usually, two types of trains come to the station. One is for locals, and the other is for tourists that run from Casco to Ollantaytambo
If you take a train from Cusco to Aguas Calientes, then you won't be allowed to visit Ollantaytambo for some time and continue your journey. It is more recommended to travel through the bus in such case
By Sacsayhuaman
You can also reach Ollantaytambo through the Sacsayhuaman either by bus, taxi, car, or shuttle. Sacsayhuaman is located in the city of Cusco and is one of the greatest mysteries.

From Machu Picchu to Ollantaytambo
In Ollantaytambo, a train station leaves for the Machu Picchu, and the journey continues for about two hours. After moving continuously for two hours, the train's final stop is at Machu Picchu mountain or Huayna Picchu mountains.
The only way to get tickets for Machupicchu from Ollantaytambo is to take it through the Ollantaytambo station to the Aguas Calientes. Once you are in this town, buy Machu Picchu tickets and travel by bus to get there.
While traveling from Ollantaytambo to Aguas, the train will run across the Urubamba Riverbank, and this route will make your journey worth enjoying.
What to see in Ollantaytambo?
The streets of Ollantaytambo give a connection of the past; people really enjoy being in the Inca Era streets. Once you are there, you will notice the town's inhabitants still having Inca walls of the past. On the other side, you will love the Inca channels that provide crystal clear water to the town.
You will find many attractions in this small town, and the prominent ones are the following:
Ollantaytambo town
Once you are in the town, you will love the landscape, street, and of course people. You will observe the people coming from the nearby areas, which shows their traditional costumes and traditions. As you walk around the town, you will feel energetic by the living cultures.
The Royal House of the Sun
You will notice the urban layout of the Incas here. Different terraces superimposed on each other and presented in different orientations give a splendid view that would be unforgettable for you.
Temple of the Sun
Although much destroyed, this building is built by keeping in view impressive architects. The way it is built keeps it preserved for such a long period that visitors still admire it.
Pincuylluna Hill
Located in front of the Temple of the Sun, this hill will call you to climb. If you plan to climb the mountain, you will see a block structure of stones superimposed on it.
Don't forget to do this!
While in Ollantaytambo, make sure to visit the old town that is unique in all of Peru. This old town was built almost more than five hundred years ago. As you get into this town, you will feel like traveling back to the past time.
Another amazing experience is to have a bike tour through KB Tambo. Many operators offer horse and bike tours in the streets that will add fun to your trip.
Chicha is a local brew made of corn that the people there love to drink. You will find a red flag outside of some people's homes indicating where the drink will be served.
Places to Shop in Ollantaytambo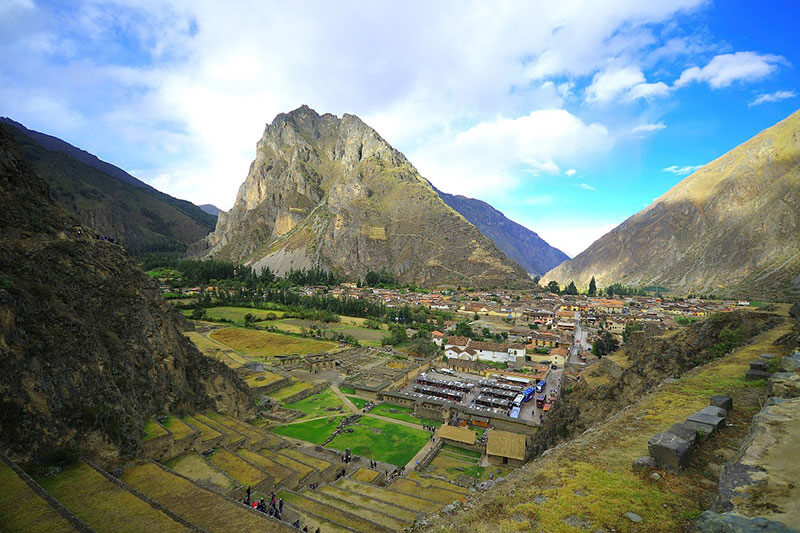 There are many places in Ollantaytom where you can buy many things, mainly the town's traditions. Some of which are:
There is a market plaza for tourists in the ruins entrance, which has many items that you may love to purchase. Up the hill from the plaza, there are small shops that may negotiate in price.
Another place to shop is through the Awamaki Fair trade store. In this store, weavings made with natural fibers and dyes are present. You can also choose a different range of books, yarn, or other artistic items.
What to eat in Ollantaytambo?
Although there are several restaurants and hotels in Ollantaytambo in which you will find quality food but here are some of the suggestions from our side:
On the train station of Ollantaytambo, there is a Cafe Mayu, where you can have premium quality coffee, cookies, and brownies. You will surely love the breakfast and lunch deals there.
If you crave to enjoy the beautiful view of ruin, then Kusicoyllor Cafe is the one that is for you. Located near the fortress, it offers international cuisines with a great serene atmosphere.
There is Puka Cafe that has all the native menu and staff down the hills, serving you with the traditions. So, if you love to enjoy local traditions, then this place is for you