Getting to Machupicchu can be done in different ways, one of them is walking there are currently three ways to get there, We arrived at Machupicchu walking:
Inca Trail
Path through Hydroelectric
From Choquequirao to Machupicchu
Some people consider that visiting the citadel of Machupicchu is something expensive. But it is not so, you can walk through different origins, we invite you to continue reading this content so that you have a little more knowledge according to each route.
How long do you walk to get to Machupicchu?
We arrived at Machupicchu walking, it is an event that at the same time to be much cheaper will allow you to connect thoroughly with nature and enjoy the great places of the Andes to the fullest. Everything will depend on the origin you choose, the disposition of time, and the demand for the body.
On the other hand, many of the visitors from the Ollantaytambo station, located in the Sacred Valley of the Incas, take the train to the town of Aguas Calientes, stay one night in this picturesque town, which offers a variety of accommodation, unique and small landscapes, which you can walkthrough. From there, the next morning begins the course of the route walking from that town to the foot of Machupicchu.
Walking from aguas calientes to Machupicchu?
Mainly, most tourists go from Aguas Caliente to the foot of Machupicchu by bus; however, there are a minority of visitors who explore by walking from the town of Aguas Calientes to Machupicchu.
Primarily, this hiking adventure is of a short and safe distance, with signage all the way, (in some sections it is possible to meet locals who sell snacks and drinks) but if you have to note that it is exhausting. The tour takes approximately 2 hours. The descent is shorter and more relaxing. It is not recommended if you visit the Huayna Picchu mountain.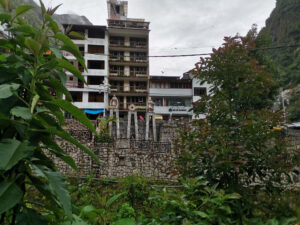 Which route to choose walking until you reach Machupicchu?
Inca Trail
For visitors who enjoy outdoor hiking, the best way to get to Machu Picchu is to hike the classic Inca Trail.
This hike is listed among the 5 most impressive hiking trails on the planet. It was built by the Incas hundreds of years ago in order to link Machu Picchu with Cusco.
It combines incredible archaeological sites with the landscapes granted by the Cordillera de Los Andes and the eyebrow of the Amazon jungle. In addition to Machu Picchu you can see the citadels of Runkurakay, Phuyupatamarca, Sayacmarca and more.
If you chose the Inca Trail you must book the tour through the website of a tourism agency, 5 or 6 months in advance, the permits to travel the Inca Trail are limited. You can do it here.
The Inca Trail lasts 4 days, 3 nights and covers approximately 39 kilometers. During the hike, the highest point reaches 4,200 meters above sea level (13,779 ft).
After touring several Inca sites, you arrive at the ancient entrance gate to Machupicchu, known as the Intipunku.
Road through Hydroelectric
This route starts in the city of Cusco and will take you to the town of Santa Maria (it will take around 5 hours). Once there, you must take a collective vehicle to the town of Santa Teresa or directly to the Hydroelectric station (a trip of 2 hours, approximately).
From the Hydroelectric Station, you can reach Aguas Calientes on foot (in 2 hours approximately). However, it is also possible to take a train that will take you in 20 minutes. To make the route by alternative by Hidroeléctrica it is not necessary to buy any ticket online. Buses to Santa Maria depart from Antonio Lorena Avenue in the city of Cusco.
Despite the length of the route (almost 8 hours of travel), it is still the cheapest way to get to Machu Picchu. This trip also includes a short walk through lush vegetation landscapes.
It is not recommended to make this alternative route during the rainy season (from January to April). On those days landslides caused by heavy rains can occur.
From Choquequirao to Machupicchu
Perhaps the least known route is this one that takes you from Choquequirao to Machupicchu.
Choquequirao is an Inca citadel, as impressive as Machupicchu, of which there is still much to discover and which only about 20 people arrive per day, due to its difficult access.
To get to Choquequirao, you have to travel to San Pedro de Cachora, in Abancay, and start walking for two days. After two days going up and down the Andes you will reach this impressive citadel that has a camping area for you to spend the night. The entire route is signposted.
What to take to the trek to Machu Picchu?
Water (minimum 1 bottle).
Hat, cap.
Sunscreen.
Comfortable hiking shoes.
Rubber-tipped cane.
Insect repellent.
Poncho for rain.
Sunglasses.
Snacks.
Passport or identity document.
Camera.
Small backpack.
Entrance to Machupicchu printed.
With all this knowledge you have read so far, do you still have doubts? We invite you to write to us and fill out our contact form, located on our website.