What adventure sports can you do in Cusco?
Now we bring you part of the adventures especially of extreme sports that you can do in Cusco because you can find from jumps to the void that will leave you atonic, games that you surely did when you were children and now your legs will tremble to do it, the descent of great heights in incredible places, handle bicycles suspended in the air until it flew through the air like a bird. Would you dare to do it?
Defying Fears with Adventure Sports
In the vibrant region of Cusco, Peru, lies a paradise for lovers of adventure sports. With its stunning mountain scenery, mighty rivers, and rich cultural history, Cusco offers a wide range of exciting and adrenaline-pumping activities. Here I present some of the adventure sports that you can enjoy in this fascinating region:
Extreme Swing
You would be encouraged to feel the emptiness in your stomach when jumping with ropes 20 meters long and a great swing back and forth. In the District of Saylla in the town center of Huasao, you will find the largest swing in Peru, it is known by the name of the flight of the falcon.
Climbing on rock walls
40 minutes from the City of Cusco, the district of Ccorca is located, we will find the important cliffs of Tecsecocha, here the heights of the natural rocky walls of more than 100 meters high, it will not be easy to escape vertigo that will give to be at the top of the Farallones.
Paraglider
Have you ever dreamed of flying and touching the skies? Achieve this feat in the Sacred Valley of the Inca 45 kilometers north of the city, with a totally privileged view to appreciate the imposing snow-capped mountains and all the geography that the valley presents, being paragliding a soft and relaxed activity is still an extreme sport.
Zipline
Do you know the zipline? is the descent at speed fastened to an inclined steel cable. To do it, the zip line can be chosen between different levels of challenge, it can be practiced in several places in Cusco, especially in the Sacred Valley of the Incas or in the District of Ccorca
Skybike
In the district of Cachimayo of the province of Anta, we have the famous bicycles that slide along a metal cable with a length of 125 meters, where you will observe below the precipice, quiet for safety you are subject to a via Ferrata so you can enjoy the landscape with total serenity.
Bungee Jumping
Would you jump from 125 meters high into the void? 100% adrenaline with this extreme sport, you can do it in the district of Poroy, it takes courage without limits to do it, without regrets.
Well now after telling you all this about extreme sports with a greater fear challenges that could exist, we will indicate a top of What adventure sports can you do in Cusco?
Top Extreme Sports in Cusco
Paraglider
Mountain biking
Canoeing or Rafting
Zipline
Rock climbing
Mountaineering
Cavalcade
ATV
Bungee Jumping
Hot air balloon ride
Paraglider
Skybike
You would be encouraged to do this extreme experience, it has Andean Explorer's Cusco to achieve it on your arrival in the imperial city of CUSCO.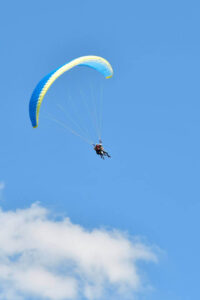 What adventure sports can you do in Cusco? These are just some examples of the adventure sports that you can enjoy in Cusco. Besides, you can also find other exciting activities like bungee jumping, tubing, kayaking, ice climbing and much more. Always remember to take the necessary precautions and follow the instructions of guides and experts to guarantee your safety and fully enjoy these adrenaline-filled experiences in the beautiful surroundings of Cusco.